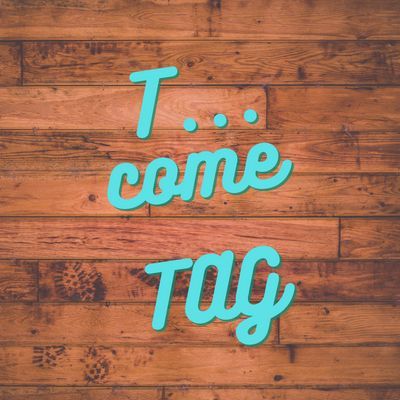 TAG, literally label, in computer science: sequence of characters with which we mark the elements of a file for later processing; by now tag is a tool with which we basically "link" to each other.
Do you often use tags?
I find it fun and I thank Fritz Gemini from the blog Philosophizing in Cheerfulness for tagging me following the idea of the blog The World of Shioren. 
The rules are simple:
1. Match the first one you can think of with the letter of the alphabet, whether it's the title of a song, an object, a person, the title of a movie, anything, just as long as it's off the top of your head, maybe even writing two lines of explanation… assuming it's there!
2. Make a list (if you like, you can also add pictures or the link if they are songs).
3. Tag as many blogs as possible that you think would be interested (there is no numerical limit).
4. Obviously tag the originator, use the tag image and whoever nominates you so that your responses can also be read.
I started with a set of words, but then I realized that the corresponding translation would not respect the alphabetical order, so I rethought the whole thing by trying to use words corresponding to so-called anglicisms.
A as ABACAB
just because it sounds good. At first it was concerned with metrics, then the pattern changed, but Genesis decided to keep this title simply because it was abstract.
If you think of something abstract, what comes to mind?
B as BREAK
obviously because the break is the prime time for coffee 🙂
C as COFFEE
NO EXPLANATION NEEDED!!!
D as detective
I love mysteries to be solved!
E as ENIGMA
just to stay on topic …
F as FASHION
because fashion equals beauty, creativity, freedom, expression, imagination, flair, art.
If I say fashion, what is the first thing that comes to your mind?
G as GIORGIO ARMANI!
H as HACKER
consider it in a good way: I admire the ability.
I as IDEA
in general ideas are always important, when they are brilliant they become the heritage of humanity.
J as JEANS 
K as KILLER
… have I seen too many movies?
L as LIVE
tell me about an unforgettable concert!
M as MUSIC
I consider it essential.
N as nickname
how did yours come about?
O as OUTFIT
what is your favorite style?
P as PUZZLE
the first one I remember was a landscape, reconstructed together with my mom, the last one a series of sharks together with my son.
Q as QR code
R as R.E.M.
stage of which I wish I could preserve memory.
S as SOUNDTRACK
what is your favorite soundtrack?
T as TAG
off course
U as UTOPIA
V as VIDEOCLIP
no, actually it's enough just to say video now: since they became viral in the 1980s, videos evolved from the famous "tube" to TikTok to reels.
Do you create them? Do you follow them? Do you share them?
W as WEEKEND!
can you explain how weekends can always fly by in a huff?
X as X-FILES
cult series! We used to look forward to Sunday nights as a must-see date. Here you find episode reviews by Sam Simon.
Y as You
because to me you are important.
Z as ZEN
because if you have made it this far you surely are zen, aren't you?
Since reading the blogs of the mythical Reader group I saw that as usual I come last and everyone already made it, I would think of an expansion across the border and, without any commitment of course, I tag Layla: Nin Chronicles,  Karo: Krolowa Karo and Kimberly: Hacketthill Farm.
And I tag you!
T for TAG
T for THANK YOU!