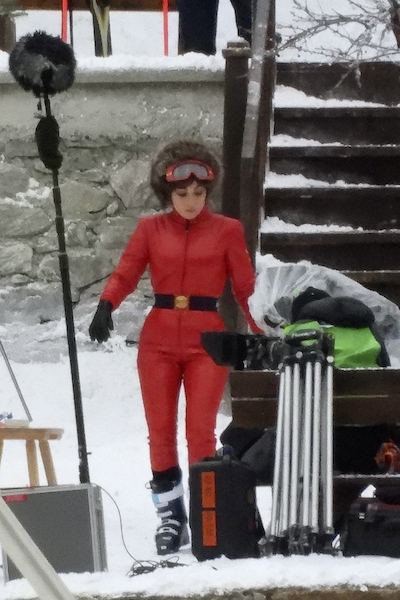 As a bad researcher, unfortunately I was unable to find a pearl that I wanted to show you: it came back to me hearing about the House of Gucci set everywhere.
Ridley Scott is filming in Italy between Gressoney, Milan and Como and rumors about the cast are going crazy, which boasts a remarkable roster of characters: Lady Gaga, Adam Driver, Al Pacino, Jared Leto and Jeremy Irons…
But I would like to focus on Patrizia Reggiani: reading that she was annoyed at not having been contacted by Lady Gaga, I immediately thought back to the interview during which I had got to know her in all her resolute personality.
November 13, 1993: one of Harem's guests is Patrizia Reggiani and Catherine Spaak, with that touch of perfidy hidden under her smile, interviews her in particular about the separation.
Patrizia Reggiani tells how Maurizio Gucci noticed her at a party as a "red elf" because of her dress, and adds that she initially made him believe she was the daughter of a "truck driver" only to specify that her father had an important transport company.
I remember one of Catherine Spaak's comments: "I would have continued to be the trucker's daughter a little longer …"
But the crescendo comes when Spaak asks "has she already had a lot of money, the house here, the boat there … isn't that enough?"
Answer: "Gucci assets have been rated xxx, what do you think?"
Well, obviously I don't remember the figures or the details, but the response phrase and the tone of the "what do you think?" remained impressed on me as if I had heard them yesterday.
And I imagined them as a frame for the statements against those who will play her on the big screen.
I want to clarify, but promise me not to ban me for this, that I do not like Lady Gaga … well, I said it.
I am talking about the singer, because I have not seen A star is born and therefore I do not comment on acting, which, moreover, has been praised by everyone.
But meeting the person to be interpreted is not the rule.
Do you remember examples of this?
The vision of the film will give us the arduous sentence …
Speaking of visions, in case you, who don't have all my springs, have never seen Harem, I suggest you recover some excerpts: at the time the interviews with Catherine Spaak gave various goodies, making people known a little more in detail a variegated parterre of characters.
Find a selection here. 
If, on the other hand, you want to get a personal idea of Patrizia Reggiani, you can review the interview with our lady Franca Leosini for Storie Maledette.
And, just in case, as always: correct me if I'm wrong.