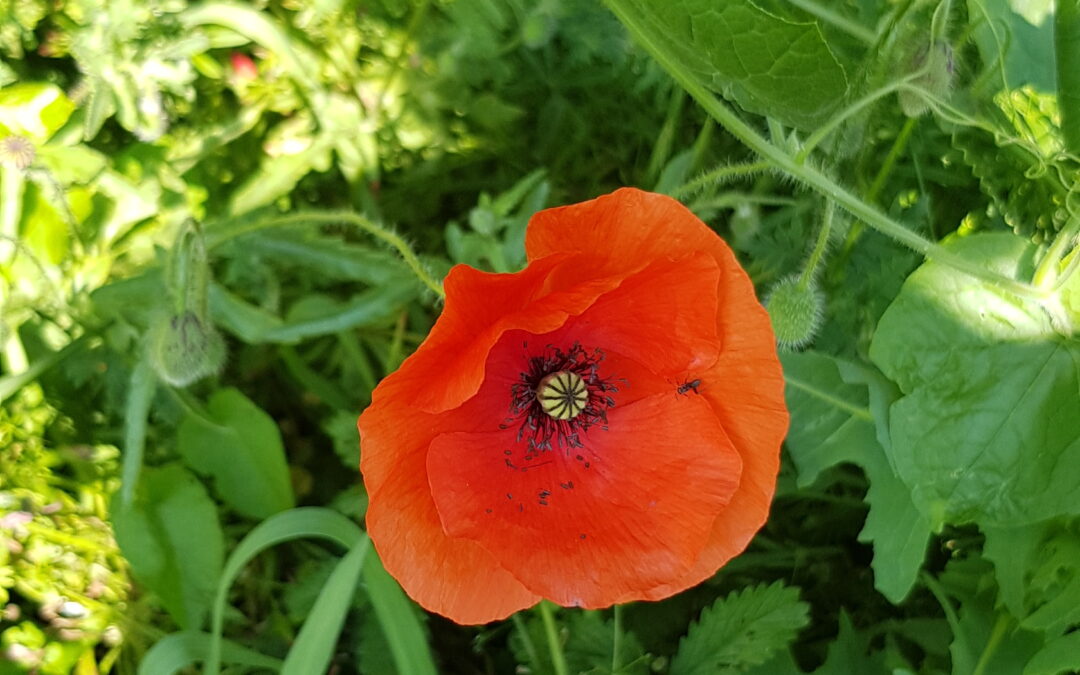 Poppies are nice, they are simple, they are spontaneous, they are impressionists

they are light, they are cheerful, they are summer, they are color, they are warmth.
But they also become sad, when they represent the symbol that John Mc Crae chose to remember the victims of war.
At the beginning of the First World War, John McCrae was asked to join 1st Brigade, Canadian Field Artillery as the Medical Officer. In May 1915 during the heaviest fighting of Second Battle of Ypres, McCrae and his dressing station were within site of the Essex Field cemetery. After 17 exhausting days and the death of a comrade, Lieutenant Alexis Helmer, her wrote his immortal poem "In Flanders Fields."
In Flanders fields the poppies blow
Between the crosses, row on row,
That mark our place; and in the sky
The larks, still bravely singing, fly
Scarce heard amid the guns below.
We are the Dead. Short days ago
We lived, felt dawn, saw sunset glow,
Loved and were loved, and now we lie,
In Flanders fields.
Take up our quarrel with the foe:
To you from failing hands we throw
The torch; be yours to hold it high.

If ye break faith with us who die
We shall not sleep, though poppies grow
In Flanders fields.
Here recited by Leonard Cohen
This made me think of Lomellina, its poppies and its victims of a silent massacre, which is not even a war, because basically nobody or almost no one cares.
I have already spoken of silent deaths, of herbicides, of glyphosate, of PM 2.5 and of liveability that are open wounds for me.
So we should not be surprised if once in a while some newspaper launches a news that is a little more taken up, but which in the meantime has already been forgotten in favor of other arguments, including aliens.
And we should not be surprised if an interception only confirms what we already know, that is, that unscrupulous people do not care in the least about the damage caused by the poisons that spill into our territories in the form of "sludge" in order to earn, indeed, they joke about it. .
It is not true that "hurting the environment and the territory is equivalent to not having hurt any physical person."
Many people will get sick and will have to fight with all their might.