Coffee kiss 咖啡之吻 is the "nickname" of Johnson Tsang's artwork as the author himself explains on his blog. 
Some people called this work Coffee Kiss 咖啡之吻. I do think it is a great suggestion!
I think so too, and speaking of suggestions, thanks to whoever pointed me to Coffee Kiss: Chito a.k.a. @cala.mistro, if you still don't know his drawings do it now because they are brilliant!
But if Coffee Kiss is just the nickname, what is the original title of the artwork?
Yuanyang II
Yuanyang is a species of water birds literally known as Mandarin duck. Because "Yuanyang" always appears in pairs, it is adopted as a symbol of conjugal love in Chinese, as Johnson Tsang explains.
Yuanyang II was displayed at Hong Kong International Airport with the following motivation:
with Hong Kong's historical background, local culture embraces Chinese traditions as well as impacts from the West. In fact, inclusion has long been the major characteristic of local culture. Yet, Hong Kong people are no copycats. We infuse the external impacts with our own creativities. Yuanyang, a local drink which mixes milk tea and coffee, reflects Hong Kong's unique fusion of Eastern and Western cultures. I hope to represent Hong Kong culture's organic vitality in the West Kowloon Cultural District with this sculpture.
Johnson Tsang Cheung Shing 2012
Surely the organic vitality of Hong Kong is well represented, but at this point a further question arises: Yuanyang "local drink"?!
Yet weren't we talking about ducks?
Actually, the name Yuanyang has many facets: as we mentioned, it is the Chinese name for mandarin ducks, which historically were believed to mate for life.
The popular association of yuanyang with romance arose during the Tang Dynasty (618-907).
In his Changan poem: poetry written in an antiquated form, the seventh-century poet Lu Zhaolin wrote that lovers "wished to be mandarin ducks more so than immortals." 
However, the Aix galericulata during the breeding season stay in couple often for many seasons, but not forever, after all, you know, times change…

Yuanyang are also the beautiful rice terraces beyond the clouds, perfectly described by Si parte dopo il caffè. 
In Mandarin, yuanyang is then used when eating hotpot: "Yuanyang Pot "a double-tasting pot in which you can enjoy both spicy and non-spicy soup, divided into two parts. And the name relates precisely to the two halves joined, as in an inseparable pair.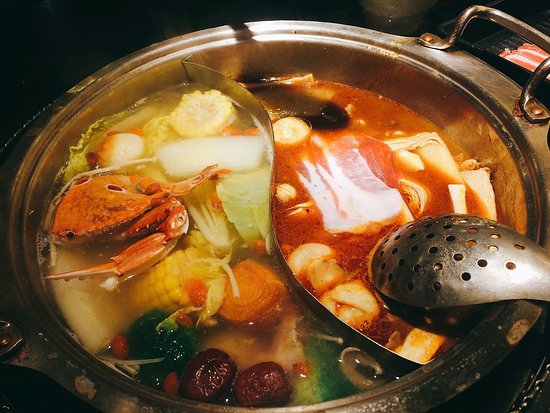 Finally, to close the circle and return to Coffee Kiss, in Hong Kong yuanyang is a beverage: milk and coffee tea also known as Yuan Yang Cha 鸳鸯 in Mandarin, Yin Yang, Yun Yueng, Yin Yong, Yin Yeung or Yuenyueng tea 鴛鴦  commonly used among young people.
There are many transliterations, but the common denominator is unique and corresponds to a very popular drink and refers to how coffee and milk tea are a perfect match!
What do you think?
Coffee Informer explains the recipe, who wants to try it?