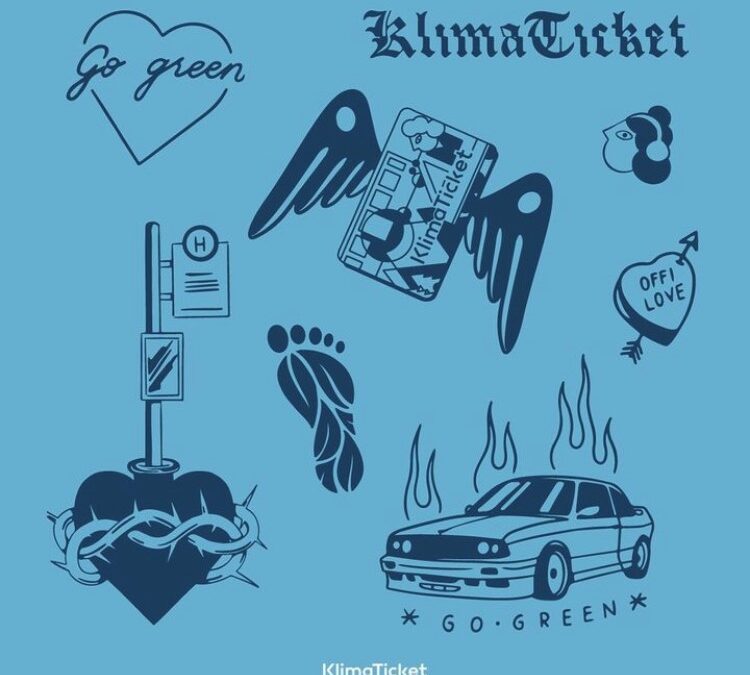 Aktion geht unter die haut means action gets under the skin.
Literally, in this case.
What case? What action?
The case refers to Austrian Federal Minister Gewessler's public relations campaign.
The action consists of a tattoo in exchange for an annual ticket valid for public transportation: a Klimaticket. 
Klimaticket tattoo, then.
This campaign took place at the Electric-Love Festival in 2023. The executing company is One Mobility GmbH, founded specifically for the Klimaticket and 64.417 percent owned by the Republic of Austria. 
Leonore Gewessler was at the Frequency Festival to promote the Klimaticket tattoo in person with the motto: aktion geht unter die haut "this campaign gets under your skin."
Volunteers were able to choose one from a range of drawings and get tattooed directly on the spot.
All themes had to do with the "for the climate" ticket or the environment.
Samples included, for example, the word "Go Green" surrounded by a heart but also the words Klimaticket.
The first three people tattooed on the spot each received a free ticket valid for one year.
The promotion of public transportation is not in question, but the manner?
I find it offensive to young people in the first place, since place and conditions point to them as the main target audience.
We are really showing the young people the worst: our inadequacy, our incompetence, our lack of criterion, of values, of common sense.
Not even Orwell came up with such an idea.
By now we are not even consumers anymore, but merchandise, with an expiration date moreover.
Even our skin becomes an advertising space, to be sold off, by the way.
Am I exaggerating?