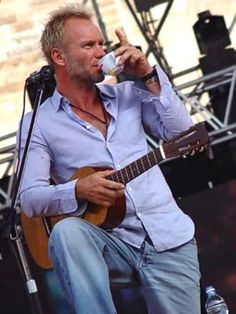 The Bridge is out: the new work by Mr. Gordon Matthew Thomas Sumner. Fourteenth solo album by the professor who shaked and coughed just like the old man in that book by Nabokov.
I've never been able to think of Sting's undoubtedly great career without considering The Police which for me are a piece of history. Do you?
The announcement with a tweet presenting Rushing water and If it's love. 
I prefer Rushing water
At first listening it made me think back to the sounds of the 80s and somehow made me retrace this bridge backwards, taking me back to the carefree atmospheres that I needed.
Which is a bit like the intent of the song: Sting says "the song 'Rushing Water' is a fitting start to an album that seeks to bridge all of the petty differences that can separate us."
And I really hope it can contribute in this sense: differences must not separate us. 
This is the sound of atmospheres
Three metric tonnes of pressure
This is the sum of all my fears
Something I just can't measure
Perfect words.
Words combined with a harmony of lightness that magically illuminates the bridge, which exists.
Certainly we are not at the level of what I think is his greatest alchemy: that is one of my favorite songs of all time ever, even if very often I read many detractors.
At this moment, however, I would rather mention the pearl from his first solo album The dream of the blue turtles: we can change the title by putting any other description but the concept is very topical.
Don't you think?
We share the same biology
Regardless of ideology
But what might save us, me and you
Is if the … love their children too