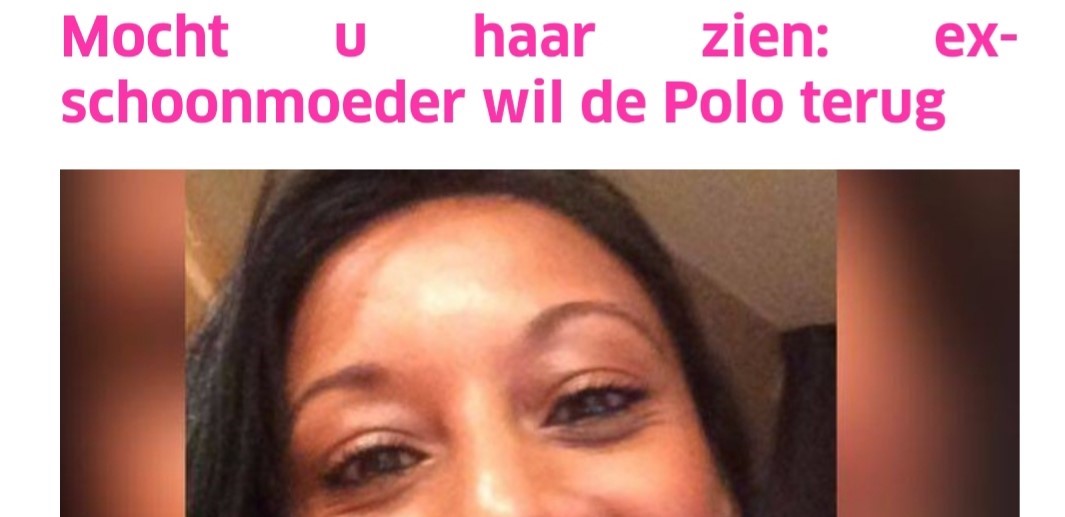 If you see her: the ex-mother-in-law wants the Polo back this is the writing above the photo, published on the Dutch blog GeenStijl, of the woman we have come to know as Sara LemLem.
This story dramatic at first is becoming bitter for the people involved, to whom all my respect goes.
I know, this is also extreme who cares news, but since the episode of Chi l'ha visto hasn't aired, we can't run out of updates, right?
And since it all started from Vigevano … you don't care, do you ?!
Come on, now I'm telling

For those who are not chilavister … briefly: in December the appeal for a woman who disappeared from Vigevano is released.
I know you will say "with the fog you have, where is the news?" 🙂
Joking aside, obviously the companion is very worried, even if, perhaps due to apprehension, his words at first seem strange.
In light of the incessant news about feminicide,  also considered that Mr. Corrado said that Sara left after a quarrel, he was asked questions about the nature and above all about the modalities of their quarrel, fearing the worst.
In the following days the searches are extended in every possible way, and the firefighters plumb the Naviglio Sforzesco and other city waterways, without any positive results.
But the diffusion of the photo, published on the website of Chi l'ha visto, bounces almost everywhere, and leads to a Dutch track that reveals a twist unexpected about Sara's past.
Patrick, from Amstelveen, provides documents, photographs and also the complaint relating to the car of his mother, the ex-mother-in-law who wants the Polo back, which seem to leave no doubts.
The contact takes place through the editorial staff of the Informatore Vigevanese to which then Mr. Corrado tells more details about how he met Sara on a Belgian dating site, and about their trip to Italy.
Sara never wanted him to go to her flat claiming that it was in common with an Egyptian cousin, with whom she also collaborated on a working level.
Sara arrived at the meeting with all her luggage in a car that she left in a parking lot in Antwerp, saying that a friend of hers would have taken steps to recover it.
Sara told him she had lost all documents.
And I'm not even writing that, while doing research, I found Sara as an author, or more precisely as a Milanese videomaker of Eritrean and Ethiopian origins, but that the link leads to an even different identity: Sarita, because at this point it is not even important.
Thinking of people who disappear, where it does not turn out to be a terrible epilogue, one wonders HOW one can even travel without a trace …
Here, in this case the ex mother-in-law rightly wants the Polo back.