Questo articolo è disponibile anche in:

Italiano
3

min lettura - read
Tomislav Takač is a writer whom I admire especially for how he shows belief in his dream.
About himself he says: My name is Tomislav Takač and I am a 32-year-old laborer and a beginning writer in Subotica. I started writing 4 years ago and since then I have been writing short stories and have written and published the novel Strigorovu Šuma.
He has been updating me on his progress for a long time, and in the beginning we tried to overcome linguistic obstacles because despite the great help of translators it is not always easy and straightforward to understand a written text without losing its distinctiveness.
However, Tomislav began to translate and write in English as well, so I was able to truly understand the nature of his book Strigorov's Forest. 
Originally started as Strigorova Šuma, the book has since been translated and Tomislav has also produced a kind of animated trailer.
Knowing me, you must have guessed that I really liked it immediately, from the first notes of the "soundtrack" … you recognized it too, didn't you?
Rock aside, I became immediately attached to Erena's character, I could say that she brought me into Tomislav's world: a Fantasy world composed of fantastical figures but traversed by fully realistic action protagonists.
The secret of the silver door is the first story Tomislav pointed out to me.
Here instead you can find the first chapter of Yelena, First Blood.
Among the other stories I particularly liked Jack which I also found moving.
Not only Fantasy then, not only Action, not only Science Fiction, but the sum of many different facets that come together transporting the reader on an incredible journey.
And Tomislav concretized this path in every possible way, even working with an artist to turn his story into comics as well.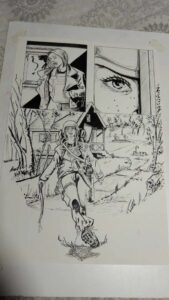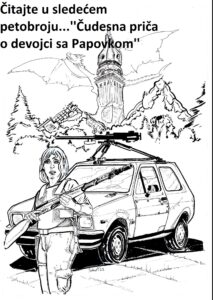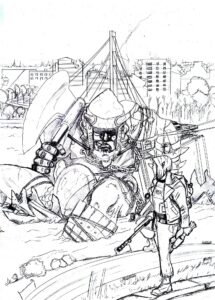 Coffee is often mentioned.
Regarding the cafes, Tomislav sent me videos showing Sarajevo.
I thank him because it gave me great pleasure: so far my knowledge of Sarajevo was limited to reading Margaret Mazzantini's Venuto al mondo, for which I thank both Monica and Elisa. 
Do you know better than I do?
Tomislav was kind enough to send me this video that shows an interesting coffee route in Sarajevo and describes us Bosnian coffee and their Java
I got hooked on this tradition of "fortune-telling," you know we had already mentioned the reading of the coffee grounds, but in this case the story being told and the star at the bottom of the cup are really enchanting.
I also found fantastic the coincidence that the particular street shown in the video of this Bosnian café was a street dedicated to shoe making. 
And this is a small view of Subotica, Serbia, Tomislav's hometown.