Questo articolo è disponibile anche in:

Italiano
2

min lettura - read
Googler: googling in French begins to have a different meaning if you enter the field of IPG certified editorial news.
Our cousins from beyond the Alps scored a further small victory against the giants of the web. 
In fact, an agreement has been signed between the Alliance de la Presse d'Information Générale: APIG and Google France which provides for a remuneration for the license agreements of the publishers of newspapers within a new program: News Showcase.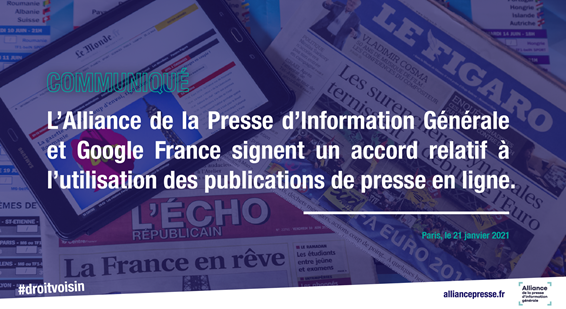 The remuneration provided for in the license agreements between each newspaper publisher and Google is based on criteria such as, for example, the contribution to political and general information, the daily volume of publications or the monthly Internet audience.
This is also a very important step in the controversial issue of Copyright Law in Europe and sees France as the first country to adopt legal legislation.
The concept on the basis of which Google has always maintained that news does not bring advantages to the search engine, but only an indexing for the newspapers, is overturned.
It is the conclusion of a battle carried out by the French press which turned to the Competition and Market Authority and subsequently to the Paris Court of Appeal and opens the way to the other member states as well.
The Alliance de la Presse tweet speaks of the effective recognition of #droitvoisin or neighborhood law which, as the Irpa explains allows publishers to obtain fair compensation from search engines and online platforms, established through an agreement, resulting from the use of news extracts. These also include previews (snippets) widely exploited by the search engine.
Where do you follow the news?