Rebel Rebel is the picture disc I received as a gift from Elisa Mirko and Diego.
Elisa had already given me the Oh bej oh bej pictures as a gift.
Mirko had already given me the logo as a gift.
They both love David Bowie, as I do and as a large large percentage of humanity does, I think.
These days mark two dates, of which I like to remember more the first: his birthday.
David Bowie made history, and I won't add "of music" because The White Duke is forever art, genius, style and communication that never stopped obliterating barriers.
Some have referred to Rebel Rebel as the anthem of glam, but I believe its unmistakable riff has the power to immediately captivate anyone who listen to it.
The Riff
Dsus2 E
e|———–0——–(0)——————|
B|——(3)—–3–2—0-0—–2–0——–|
G|——(2)————1-1———–1—–|
D|——-0————(2)—2———–2–|
A|—————————————–|
E|–(3)————————————|
Polly also agrees.
Instead, this is the version at Live Aid at Wembley Stadium, London, on July 13, 1985.
Yes, I know, I always take you back to the 1980s, Rebel Rebel however is part of the 1974 album Diamond Dogs and at that time I was still unaware of it.
The image on the picture disc is part of the cover of Diamond Dogs signed by Guy Peellaert on the MoMA website the full version censored by RCA.
The album is steeped in references to George Orwell's 1984.
Paradoxically, if you will, to look through the lens, I point you to this exhibition at the State Archives in Turin.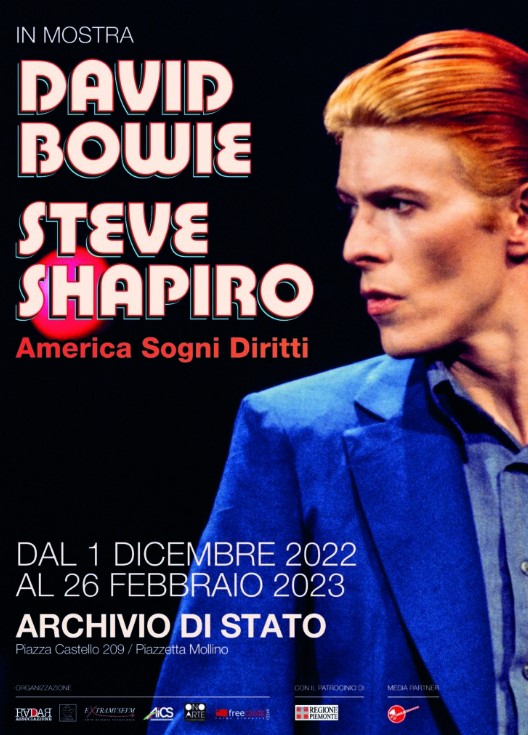 America Dreams Rights show David Bowie on the U.S. tour promoting Diamond Dogs through Steve Shapiro's shots.
It is very sad to think that almost fifty years have passed and yet we have not made much progress in terms of rights, or even in terms of dreams.
May be we are not Rebels enough, aren't we?