Isy probably in someone's mind represented a way of making the word easy, which by now needs no explanation, even more pop.
Three letters then, to sum up the English pronunciation and to introduce the next word: bank.
Three letters for the name.
Three words for the slogan.
Digital
Essential
Open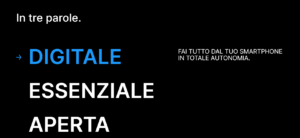 It probably seemed natural in someone's mind to shorten customer acquisition for this bank as well.
Why wasting time.
The bank is open.
Shouldn't that be enough?
Essential.
So thousands of account holders, One none one hundred thousand … by three again, have been transferred from what is considered the largest Italian banking group to this bank.
A digital and essential bank, where digital and essential means no more possibility of having a physical counter anywhere.
But also where digital and essential apparently means alerting unsuspecting account holders through a notification on the app.
Registered mail is extinct, and no more letters either, because in some papyrus of a thousand thousand lines written in small print the customer has signed that he "doesn't want" any more paper communications.
No more phone calls, despite the fact that it is absolutely essential to have the phone for the infamous app and despite the fact that it is absolutely mandatory to communicate the number.
No more hassle or waste of time trying to contact the customer in one of a variety of ways, including email, texting, but also a trivial campaign of any nature.
No: it is an essential bank, in someone's mind it seemed enough to send a simple notification within the app.
A notification of the kind that those who are Boomers, and lived through the days when the same people worked in the bank for years, people who could be trusted, do not tend to consider vital.
A notification that could have been missed by anyone.
A notification that constituted the only last resort, moreover with a deadline, to express not consent, but DISSENT to being transferred to the new Isy.
Find a "small" overview of reviews here. 
A parliamentary question was also asked about this forced transfer. 
Do you perhaps have direct experience to testify?
Among the fanciful narratives, it would seem that the choice of the lucky drawers fell on those who did not attend their reference branch.
I would really like to be able to see the selection mechanism … and in my heart I want to hope that older people are not involved … because maybe even they haven't gone to the branch, an operation that has long since turned out to be almost as complicated as making an appointment with Chiara Ferragni.
But the new bank is OPEN …