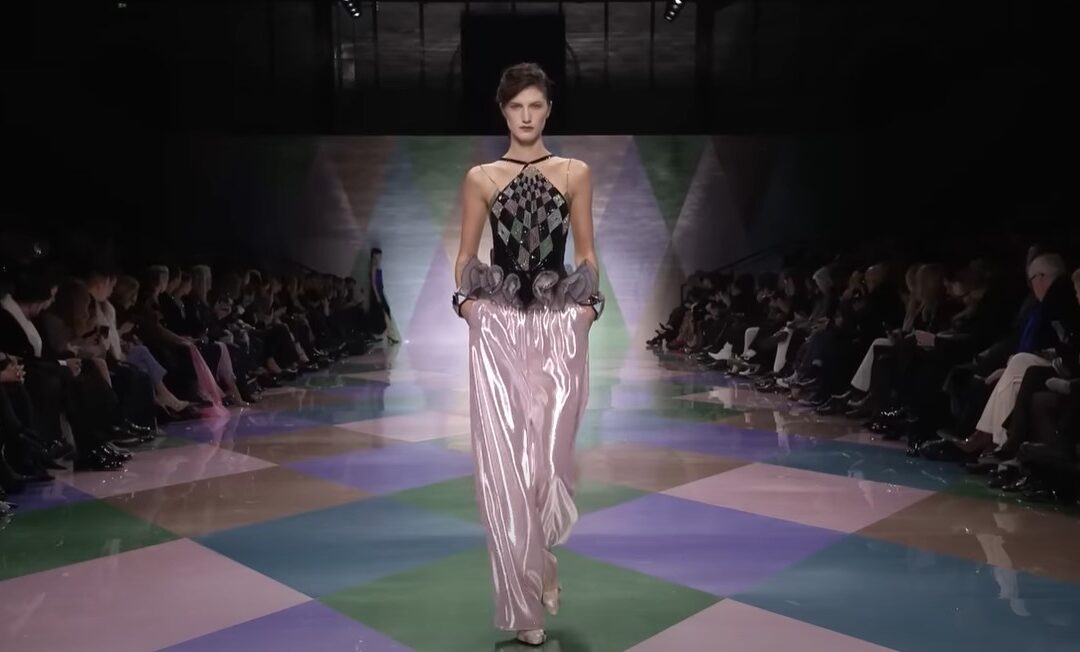 Rondò Armaniano is an imaginary dance composed of lines, lights and colors that gently vibrate, as if refracted through a prism.
The Giorgio Armani Privè spring summer 2023 collection is a luminescent fantasy in which the clothes dance and shine.
Just like the Rococo interiors of Venetian palazzos, it is the splendour of light, multiplied by extraordinary embroidery, that creates the most precious sensations.
Rondò Armaniano is a symphony of small, jewelled jackets, long skirts, fluid trousers and sheath dresses that create seductive silhouettes.
Gorgères and diamond motifs inspired by a painting of Harlequin take us straight to the Venice Carnival, but not only.
Everything is light, impalpable and glittering. The diamonds motif expands onto the catwalk, in a painting that becomes reality.
A reality that remains a dream for many, yet I consider it Art, and as such I simply admire it without feeling the desire to own it.
I find that every time Giorgio Armani offers us his fashion shows, we can all consider ourselves richer in beauty.
And as if by magic, again King Giorgio has managed to pay homage to something in my heart: in this case Venice. 
Luciana in her tag wrote me "Venice & Armani: a dream" perfectly describing my thoughts.
And, just to frame … the fashion show took place in Paris! 
I really liked this sequence of shots: little glimpses, angles, viewpoints.
Here, at this point I would like to ask you if you would also like to remember a place that inspires you for whatever reason.
I came across this quote by Haruki Murakami:
People leave traces of themselves where they feel most comfortable, most worthwhile.
Do you agree with that?
In my case, I would rather say that it is the place that leaves its imprint in me, but I am weird … how about you?